Fitting Tips for Bras
Women come in many shapes and sizes, which is why we offer our customizing service. The following tips should help you find the perfect fit. These tips are most helpful once you have received your order.
There are 3 main variables that affect the fit of your bra: rib size, cup size and strap length. The front looper may also be a factor. Isolating each variable can help you determine what adjustments you might need.
Rib Size
Too loose or too tight? If the rib elastic is too loose, the bra may pull up in the front and/or back. The elastic may curl up or gap in the front, or you might feel like you're falling out the bottom. Sometimes the rib elastic feels too tight, when actually the straps are too short. (See Straps) The best way to determine if the rib elastic is the right size is to put the bra on without the straps. (This is easier to do with the unbra style #110.) Place the rib elastic straight across your back, where you would like it to stay. To determine how snug you can make it without it being too tight, put a small pin or take a basting stitch in the back, or just pinch the elastic to see how much tighter you need it. If the elastic still feels too tight when it is in the right place, you'll want to try a larger rib size. We use standard sizes in 2" increments (34, 36, etc.) when possible, but we can do in-between sizes if needed.
Cup Size
Too big? The cup is too big if you're not getting any support from the bra, there is extra fabric bunching up in the center front of the bra or you feel the cup is spreading you out, rather than holding you in.
Sometimes the bra covers you nicely, but it just doesn't feel like it's doing anything. This indicates the cup is too large. If the armhole is too binding (too high), we can cut it lower. Usually ¼" to a ½" is enough. If you feel like you need the armhole cut more than 1" lower, you may need a smaller cup size.
Too Small? The cup is too small if you are spilling out or feel squished or flattened. Some women need a little extra coverage only at the armhole. We can cut the armhole higher in the front; just let us know how much higher you need it.
If the bra is pulling up in front and you're unsure if it is the strap length (too short) or the cup size (too small), put the bra on without the straps. With one hand, hold the bottom elastic on the rib cage where you want it to sit. With the other hand, pull the cup up. If you feel you need more depth in the cup, try a larger cup size. If you feel the cup is full enough, try a longer strap.
Note: It is difficult to adjust cups to be larger, so please be sure the cup is deep enough before you decide to wear it. If you find you do need the cup to be larger after you've worn it, please call us to discuss your options.
Straps
Too long? If you feel the straps are too long, pinch them to where they feel comfortable on your shoulders and we can shorten them that amount. Cotton and velour straps often run shorter than Lycra or Dri-Release, because the fabrics stretch differently. Keep this in mind if you are trying different fabrics.
Too Short? You can tell if the straps are too short if they dig into your shoulders or if the bra pulls up in the front or back. Sometimes tightening the bottom elastic is all you need to keep the bra in the right place. But it is not unusual to need longer straps. If you are tall, have a long torso or broad shoulders, you will most likely need the straps longer. The trick is figuring out how much longer.
If the bra sits too high in the back, measure down to where you'd like it to sit and ask us to add this amount plus 1"; or
measure from the top of your shoulder, straight down your back to where you'd like the bottom of the bra to stay. Let us know this measurement and we can suggest how much longer to make the straps; or
if you have a bra that has straps the right length, you can compare them to your Decent Exposures® bra to help us know how much longer they need to be.
Note: It is easier to know how much shorter to make straps because you can pin them exactly how you need them. When in doubt, go a little longer than you think. Once you have the straps long enough, you may need the rib elastic tighter (see Rib Size).
"Front Looper"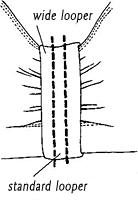 The front looper is designed for definition. For those who prefer a smooth look, you can snip off the looper, or try a Velcro looper ($1).
If you find the looper pulls up too much in front, a longer looper should help the bottom elastic lay flatter against your rib cage. Securing the looper to the bottom elastic at the stitching line in front can also help the elastic lay flatter and keep the bottom elastic from pulling up. To determine how much longer you need the looper, tie a string or shoelace around the front and see how long you need it.
A standard looper is about ½" wide. Many women find a wider looper helps give more cup definition and separation. A 1½" wide looper works well for this purpose.
Clothing Tips
We can also fine-tune the fit of our clothing products. The more specific you can be, the easier it will be for us to get you exactly what you want. Let us know how much longer, shorter, tighter, looser, higher, lower, etc. you need your garment(s) and we will do our best to get you a perfect fit.
More Options
Bottom Elastic - For many years we have used a 1¼" elastic around the rib cage in sizes E and larger. This wider elastic is firmer, offering more support in the larger sizes. In 1998 we introduced a 1" elastic for sizes A-D. Not only is it latex-free, but it is softer and less binding for the smaller sizes. If you prefer the 1" elastic for an E cup or larger, or would like to try the wider elastic in a smaller cup, please let us know.
Lycra Ribbing - a soft, 2" wide cotton/lycra ribbing is now available in place of the rib elastic for those who can't tolerate anything tight around the rib cage. Best for A-F cups.
Thread - If you are irritated where the thread sits, try wearing your bra inside out. If this helps, the thread may be the source of the problem. Often the irritation subsides after a few washings, but if it doesn't, we can switch to a 100% cotton thread or a very soft, polyester, "Tiger"' thread which works quite well for some of our most sensitive customers. There is no extra charge for these options.
Note: Organic cotton and organic cotton/lycra items are always sewn with 100% cotton thread.
Back Lining - In J, K and L cups we now line both the front and the back of the bras when lined bras are ordered. If you find the back part of your lined bras wear out faster than the front, we can line the back of A-I cups for an additional $5.
Pockets - For women with prostheses or those wishing to add their own padding, we can put pockets in bras for an additional $5. Please know your size before ordering this option.