Sweat Pads
$6 to $20
Our 2-layer 100% cotton sweat pads will keep your rib cage dry. Once a bra is on, tuck a sweat pad under the elastic (or ribbing) below your bust. It can be easily replaced if it starts to feel damp - no more changing your whole bra just to stay dry! The cotton feels great and staying dry can help your skin stay rash free. Available in all our cotton colors. Available in 2 sizes: Regular (4" wide by 14" long) or Long (4" wide by 18" long).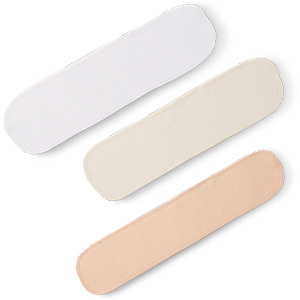 To Order…
All prices include domestic shipping. Canadian and International shipping rates are additional and will be confirmed via e-mail.
If you need customizing of your order (i.e. latex free elastic or other modifications you have had to previous orders), use the "Special Instructions" box when checking out to make your requests.