Cushie Washcloths
$10 to $25
Softer than a baby's bottom, our 2-layer, 7" square washcloths last and last! They become more absorbent the more you wash them, you'll find them quite versatile – and not just for babies! We will choose an assortment of our 100% organic cotton. If you prefer certain colors, please mention them in the Special Instructions. See our available colors here.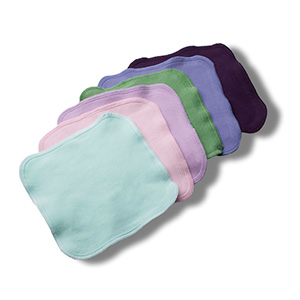 To Order…
All prices include domestic shipping. Canadian and International shipping rates are additional and will be confirmed via e-mail.
If you need customizing of your order (i.e. latex free elastic or other modifications you have had to previous orders), use the "Special Instructions" box when checking out to make your requests.